At Sea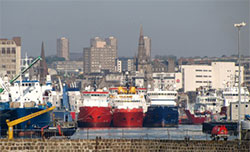 900 years of sea trade. The harbour in Aberdeen was first established as a business in 1136 by King David 1st of Scotland, Aberdeen Harbour is, according to the Guinness Book of Business Records, the oldest existing business in Britain, with a history that has spanned almost 900 years. The port's has an incredible story, with its transformation in to a modern, state-of-the-art facility, which today the harbour serves the multinational energy industry globally"
500 years of medicine. Medicine has been taught in Aberdeen for over 5 Centuries. The Regius Chair of Medicine of the University Medical School was endowed in 1497 by King James IV of Scotland. Today with 5 Nobel prizes and the highest concentration of life scientists in Europe, this world leading university hospital's doctors treat complex and difficult cases and produce groundbreaking medical discovery; leading directly to world-class, evidence based medical care.
The sailing boat, the Thermopylae, was built in Aberdeen in 1868; she created her first record (still not beaten by a sailing ship) on her maiden voyage from Gravesend, England to Melbourne, Australia.
The 'Thermopylae' was built primarily for speed and incorporated the now tried and tested 'Aberdeen Bow'. The route she had been destined to ply was the Far Eastern Tea Trade (hence Tea Clipper). Speed was of the essence on this route to bring Tea to Europe as quickly as possible (so to beat the competition and command the best prices for the merchant in the fierce european Tea Market).
'Thermopylae' created her first record (still not beaten by a sailing ship) on her maiden voyage from Gravesend, England to Melbourne, Australia. She sailed the voyage land to land in a record 60 days, her skipper; Captain Kemball.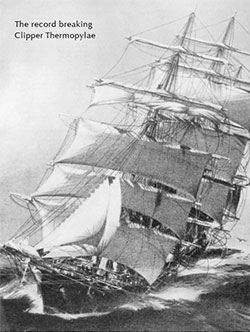 She then broke another record, making Newcastle, New South Wales to Shanghai in 28 days (usually about 40+ days at the time). She then made London from Foochow in a breathtaking 91 days. Her greatest rival, the 'Cutty Sark' only ever beat 'Thermopylae's' speeds on the return journey to Britain, though this is open to scrutiny, as they were never actually raced at the same time and under the same conditions ('Cutty Sark' was loaded for racing whilst 'Thermopylae' was loaded to the gunnels for financial gain...typically Aberdonian.......).
'Thermopylae' and the 'Aberdeen Line' fleet in general maintained a reputation across all their routes for style and class, the ships always gleaming like new pins on arrival in port with their glistening green livery.
Aberdeen became the centre of Europe's petroleum industry with over £350 billion invested in the sector. It has the largest heliport in the world and an important service ship harbour port serving offshore oil rigs, Aberdeen is often called the "Oil Capital of Europe".
The number of jobs created by the energy industry in and around Aberdeen has been estimated at half a million. It is a a major world center for undersea petroleum technology and here are more than 900 companies working with the energy industry in Aberdeen and is redeveloping now into a world leading redevelop itself as a research and development hub.